"The time to work with the model in the many role plays was wonderful: the chance to experiment, the excellent coaching, the chance to walk in the shoes of a disputant were all invaluable. The training team was excellent at establishing an environment where experimentation and being the novice were encouraged and respected. The highly supportive environment was quite helpful"
Course Attendee
LCSW
"... it was the safest learning environment I have ever been in. I have always hated role playing. I will never fear it again. The way you and your coaches set up the role plays, coached the 'disputants' and the 'mediator' and guided the process made it very safe to screw up."
Course Attendee
LCSW
"I expected the training to initially give hints and guidelines for improving my work. The training became much more than that and provided an entirely new approach to conflict resolution,"
Human Resource
Professional
Richland,Washington
~~ Training Schedule and Course Descriptions ~~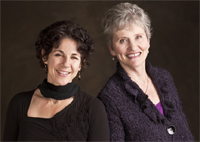 Since its inception in 1986 by Confluence Northwest, our training has been recognized as a model of excellence in the Northwest for the individual who is earnest about learning the skills needed to be a mediator in a variety of settings. Our seminars are fast-paced, skill-oriented, and highly interactive. Brief lectures, demonstrations, and group discussions are interspersed with "hands-on" mediation skill-building exercises. There is a professional coach for each role play group. Class size is limited to 24 to assure individual attention and an enjoyable learning environment. Our comprehensive training manual provides you with extensive information and resources for the future.
- Laurel Singer and Mary Forst
Training Schedule 2018
In 2018 we will offer:
Basic Plus Mediation Skills Training
April 18, 19, 20, 23, 24, 2018
8:30 am - 5:00 pm

Advanced Workplace Mediation Skills Training
Basic Plus Mediation Skills
Designed to exceed Oregon court requirements for basic mediation skills training. Continuing Education and HR credit available.
You will learn and practice how to:
Structure the mediation process through a step-by-step procedure

Increase your effectiveness in listening to and communicating with people in conflict

Assist disputants to reach mutually satisfying agreements

Enhance negotiation skills–your own and others'

Work with strong emotions respectfully and constructively, especially with the disputing parties face to face

Manage cross-cultural differences

Respond to ethical dilemmas that arise in mediation

Develop strategies to deal with various elements of conflict
Build your Confidence and Comfort in Working with Conflict

This is a highly interactive, comprehensive training in the use of mediation to resolve conflicts. As part of this training experience, you will learn not only an effective model for solving problems, but how to use this process to help people change their relationships and how they handle conflicts. Participants consistently remark that this training touches them at a deep level, transforming how they think about and work with conflict personally as well as professionally.

Your trainers will utilize a dynamic and engaging blend of structured exercises, demonstration, activities, video, role play and large and small group discussion. A hallmark of this training is the high level of individualized instruction and coaching in practice situations which you will receive from some of the most exceptional professional mediators in the Northwest.
Individualized Coaching: The Cornerstone of Your Learning Experience
Your own coach will work with you throughout the role play, providing you with:
private preparation before you mediate including individualized instruction focusing on your learning goals
supervised role play with individual attention and skillful coaching
structured, safe debriefing afterwards, with constructive support and feedback from your disputants and coach.
Our coaching process helps you recognize the effects your approach has on others, allows self-reflection, and supports you in developing new ideas and taking new risks. You then have a second opportunity to mediate with the same supportive coaching, in order for you to practice what you learned the first time. This allows you to build your confidence and comfort in working with conflict.
This training is designed for attorneys, counselors, managers, human resource professionals, union representatives, supervisors, planners and others seeking better ways to manage internal and extenal organizational conflict and problem solving.
This training is also designed for individuals who want to work in the growing field of mediation; and for anyone wanting to learn conflict resolution skills for professional, personal, planetary and community benefit.
Top of Page
Advanced Workplace Mediation

An advanced training focusing on the dynamics that arise in workplace conflicts, and the understanding and skills needed to assist parties to resolve conflicts and improve their working relationships. All role plays and exercises are based on typical scenarios of conflicts that arise in the workplace.

You will gain skills in:

Pre-mediation assessment and "getting parties to the table"
Creating safety
Neutrality dilemmas: how to gain credibility when you care about the outcome
Working with the reality of power imbalances in the workplace
Helping parties to negotiate behavior changes
Building and restoring good working relationships
Integrating mediation practices and principles into an organization


Prerequisite: Basic mediation skills training that fulfills Oregon Dispute Resolution Commission requirements, or permission of instructor.
Internal Training for Conflict Resolution Programs in Organizations

Many companies and organizations are creating successful internal conflict resolution programs to:
solve workplace problems quickly, fairly, and effectively
help teams find common ground and accomplish their objectives
increase the level of creativity and ownership of outcomes by involving people in designing their own strategies for success.
We help you design a program that meets your organization's unique needs and involves active participation of interest groups. We also offer training for managers, administrators and internal mediators of the program, and education for executives, managers, and potential end users of mediation, to ensure that everyone in the system can make effective use of the program.

Custom Designed Training
We are happy to customize the mediation skills or other training courses to meet the needs of your organization or business. Please call (503) 243-2290 for more information.
Confluence Center for
Mediation & Training
15500-H NW Ferry Road
Portland OR 97231-1355
(503) 504-4248
mcforst@confluencecenter.com
The URL for this site is http://www.ConfluenceCenter.com